Venue Details
A venue is a location where shows can be held. Only create a venue if you, or your organisation, are responsible for running that venue and will be the contact for the Fringe Society for the management of that venue.
Any venues that you create will stay within EdFringeware from year to year so, other than updating as needed, you won't have to keep re-entering the details each year.
If your organisation will be running a Fringe venue, you will need to indicate this on your organisation home page by ticking the box 'Will this organisation manage a venue?' and click Save this Tab.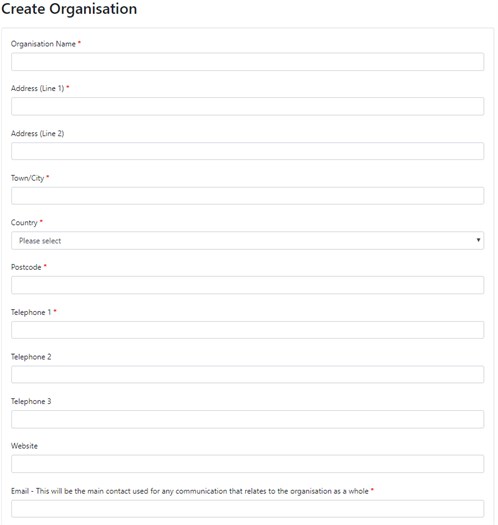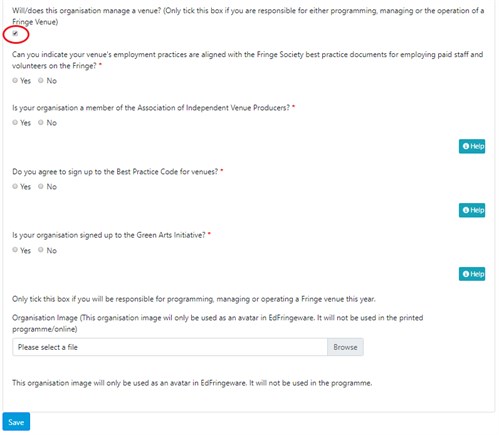 Within your organisation you'll find a row of tabs, one of which is labelled Venues. If you don't see this tab, please follow the above guidance. Select that tab then click the Create a Venue button. Enter the name of your venue then click Save.
You will be asked to accept the Fringe Society's agreement with registered venues which outlines the requirements on both sides. Please read the agreement carefully as it contains important information about your obligations in registering a venue with us. You have to accept the agreement before continuing and if you have any questions please email venues@edfringe.com.
Codes and Associations
Venue is a member of the Association of Independent Venue Producers
The Association of Independent Venue Producers (AIVP) includes venue managers from across the Fringe and acts as the voice of venue operators as well as working together on areas of common interest. For more information on AIVP, you can contact them on admin@aivp.org.uk.
Do you agree to sign up to the Best Practice Code for venues?

The Best Practice Code has been developed through joint discussions between the Association of Independent Venue Producers and the Edinburgh Festival Fringe Society. It is not binding, but is designed to be a statement of intent and commitment. The aim of this code is to improve the Fringe experience for everyone. It is understood that Venue Producers do not always have sole control of their buildings, and that their ability to fully implement this code may be hampered by external factors beyond their control.
Venue Managers can sign up to the code through the online venue details management area or by contacting venues@edfringe.com.
You can view the code by visiting edfringe.com
Venue is signed up to the Green Arts Initiative
The Green Arts Initiative (formally known as the Green Venue Initiative) aims to reduce the carbon emissions of venues in Edinburgh's Festivals. It encourages, supports, facilitates and recognises venues that are ready to monitor, measure and reduce their environmental impact, or who are already doing some of this work.
If you would like to learn more about this initiative, sign up or receive some guidance on what you can do to improve your venue's environmental impact, please visit the Green Arts Initiative here: Green Arts Initiative.
Have you been awarded a level in the Venue Access Award Scheme?
The Venue Access Award guides venue managers through 16 different topics which lead to the achievement of awards (levels one to three). Taking part in the award will help venues to ensure that they are doing as much as they can to be accessible to all audiences and performers but fully acknowledges the challenges of temporary venues in unadaptable spaces. Please contact equalities@edfringe.com for more details.
Permissions
Do you understand that your organisation is responsible for securing the appropriate permissions to programme shows into the space which you currently manage?
Each year, in preparation for show registration opening, Edfringeware automatically deactivates every venue in the system. No venue information is removed, and a venue is reactivated by answering this question. The question also acts as confirmation that a venue manager is aware of their responsibilities in programming work into their venue.
As a Fringe venue manager you are responsible for ensuring you have appropriate permissions to run your venue and this question acknowledges your understanding of this. If you do not own the property which you intend to run as a Fringe venue, you must ensure that you have the appropriate agreement or permission from the property owner, manager or factor to present Fringe shows in any space which comes under their responsibility. This question must be answered 'Yes' or 'No'. If this question is left unanswered or ticked as 'No', you will be unable to register your venue's details any further in the system. If you wish to answer 'No' or have any questions, please get in touch with us on participants@edfringe.com.

Enter the name of your venue as you want it to appear to Fringe companies and the public.

Address
Enter the address of your venue as you would like it to appear in the printed programme. Use only the street address and not city, region or postcode (as these are separate fields). If your venue is hard to find or needs specific directions you can use this field to provide extra guidance. The information you enter here will be printed in the Fringe Programme and on tickets sold for your venue's productions through the Fringe Box Office.
Postcode
Enter the postcode of your venue as you would like it to appear in the printed programme. Please make sure you enter an accurate postcode as it will be used in the programme, on tickets sold through the central box office, and to place your venue on to the online map.
Venue Number
This field is purely for the reference of Fringe staff, who will assign a venue number to you. You can't edit this within EdFringeware. Fringe staff decide your venue number, from the numbers available at that time. If your venue does not host a registered Fringe show for three years, your venue number becomes available and may be assigned to another venue.
Advertising your Venue to Prospective Participants
Do you want to include this venue in the online listings search and PDF guide provided to prospective participants looking for venues?

On edfringe.com there is searchable venue information and a list of venues within the Fringe Guide to Choosing a Venue PDF document for prospective participants.
If you would like participants to be able to search for your venue, and potentially approach you about hosting their show, then please tick this box.
Remember, this works in tandem with what is set at a performing space level too, so you will need to also ensure any space is being advertised in the same way at the space level for this function to work.
How will the Venue be managed?
The venue will be managed by an independent show or producer e.g. site-specific work.
If you are a show or producer running the venue for your own use and it will not be available to other companies, then please tick here.
A venue manager will programme shows into performance slots

If you have a dedicated venue manager or organisation who will be running the venue and programming companies into slots, then please tick here.
Other management model
If there is anything about the type of management at your venue that you think the Participant Services team should know about, then please write about this here.
How many shows were in this venue last season?
Please tell us how many shows were programmed into the venue last year/season.
How many years has this site been a venue?
Please state the number of years this specific venue site has been operating as a registered Fringe venue.
Which year did your organisation start running this venue?
Please state the number of years this specific venue site has been operated by your organisation.